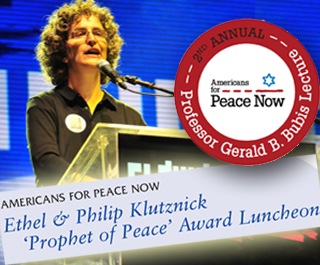 Don't miss these two upcoming events with Shalom Achshav's Hagit Ofran!
First, on Monday, November 12, 2012, at Noon at The Standard Club in Chicago, Illinois, Hagit will receive the Ethel and Philip Klutznick Prophet of Peace Award.
Then on Thursday, November 15, 2012, she will be the speaker at the APN's Professor Gerald B. Bubis Lecture at Valley Beth Shalom Congregation in Encino, California.
We hope that you will join us for these wonderful events. If you are not able to join us, please consider supporting these wonderful events and honoring Hagit Ofran.

Click
HERE
to make a
tax-deductible online donation
in support of either event and the work of APN and Peace Now's Hagit Ofran (please indicate "Klutznick Award Event" or "Professor Gerald B. Bubis Lecture" in the comments box).