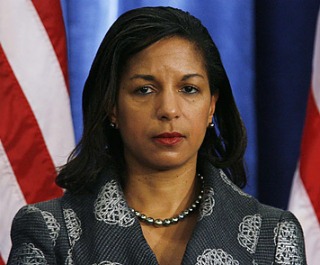 A key resolution on Israel and the peace process is now before the UN Security Council. The resolution embraces negotiations, endorses the two-state solution, and condemns Israeli settlement activity.
We need your help to make sure that the Obama administration doesn't veto the resolution.
Write to Susan Rice, America's ambassador to the United Nations and a long-time friend and adviser to President Barack Obama.
The resolution is an important opportunity for the Obama administration to prove that America will not stand on the sidelines while the Israeli government continues to build settlements, thereby undermining the prospects for progress towards peace, fanning the flames of conflict, and laying the seeds for Israel's destruction as a Jewish state and as a democracy.
President Obama is under heavy pressure to veto the resolution by those who want to shelter Israel from criticism at the UN. But we cannot afford to be short-sighted on this issue.
An American veto might give Israeli Prime Minister Benjamin Netanyahu a political boost, but it would be blind to what Israel really needs: A peace process that can end the occupation and provide lasting security.
Write Ambassador Rice. Tell her America should not veto this resolution.
The Netanyahu government, heedless of the damage settlement activity does to Israel's own interests and indifferent to the Obama Administration's peace efforts, has not only refused to halt settlement activity but has opened the floodgates, including in very sensitive parts of East Jerusalem.
It is not too late for the Israeli government to change course and to stop backing settlement activity. Such a change is needed to ensure Israel's security and viability as a Jewish state and as a democracy.
Passage of this resolution can help Israel's leaders and public grasp this fundamental truth.
For Obama to cave and to veto this resolution would run counter to four decades of U.S. policy on settlements. It would also contribute to the dangerously naive view that Israeli settlement policies do no lasting harm to Israel.
Your letter, today, can help keep our president strong.
Israel is at a crossroads. One path leads to a deepening of the occupation and to perpetual conflict. The other path leads to a two-state solution that can bring security to both Israelis and Palestinians. Our joint efforts can change history.