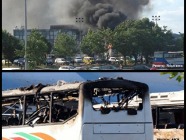 Washington, DC - Americans for Peace Now (APN) strongly condemns the bombing in Bulgaria today, which targeted Israeli tourists and killed seven innocent civilians.
APN extends its condolences to the families of those killed in the attack and extends its wishes for a full recovery to those who were injured. APN stands with the people of Israel.
APN's President and CEO Debra DeLee said: "Today's horrendous attack, targeting Israeli civilians who were vacationing in Europe is reprehensible and outrageous. We stand with the people of Israel. Our thoughts are with the families of those who were killed or injured in this attack. We wish those who were injured - more than thirty innocent civilians, including children - a fast and full recovery."