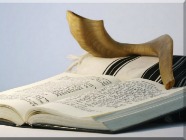 Rosh Hashana dinners at my grandparents' Sephardi home in Jerusalem were as semantically amusing as they were delicious.
Before my grandmother served the traditional chicken soup, fish, Persian rice and other main course delicacies, there were the
brachot
, the blessings. These were tapas-sized appetizers, each symbolically offering a different wish for the incoming year. There was sweet-and-spicy carrot,
gezer
in Hebrew, which sounds like
gezar-din
(verdict). We ate the carrot and blessed "may our bad verdict be torn" in this coming year. We ate yummy leek fritters. Leek, in Ladino (
prasa
), sounds like the Hebrew word for ushering. The blessing was "may He usher a good and sweet new year." And so on and so forth.
Well, this year we suggest that you adopt this tradition, with an APN twist.
How about eating
peas
and wishing us all a year of peace. You can even whirl your peas in a food processor with nuts and fried onions (
write to us
for my mother's vegetarian peas-based chopped liver recipe). As you serve the
whirled peas
, you can wish for
world peace
...
How about eating
beets
and wishing that the incoming year will
beat the odds
and bring about a breakthrough in Israeli-Palestinian negotiations. Or serving
berries
for desert to wish that Israelis and Palestinians will finally
bury the hatchet
in the year 5773. And when we eat our salad,
lettuce
wish a year of peace, security and prosperity to Israel and its neighbors.
If you have more ideas for us, please
share
Wishing you a
Shanah Tovah
on behalf of the APN family,
Ori Nir