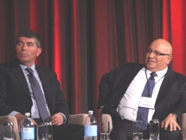 This weekend the world got a close-up view of the
growing rift between Israel's own security experts and its politicians
. The venue was a conference in New York organized by the Jerusalem Post. During the conference
a public argument over Iran broke out
between former Israeli Mossad chief Meir Dagan and Israeli Minister of Environment Gilad Erdan, a career Likud politician
whose resume
does not include any significant military/security experience.
Erdan reportedly accused Dagan and other security officials of sabotaging the Netanyahu government's policy and damaging the security of the State by publicly disputing the Netanyahu government's narrative on Iran - a narrative that suggests that Iran is unequivocally an existential threat to Israel, that its leaders are irrational, that it is unquestionably pursuing nuclear weapons, and that a military attack on Iran is most likely inevitable to protect Israel's interests.
The catalyst for this spat was a question to Dagan about comments made last Friday by
former Shin Bet chief Yuval Diskin
,
a career military and security professional
. In a bombshell statement, Diskin told his audience:
"...They are misleading the public on the Iran issue. They tell the public that if Israel acts, Iran won't have a nuclear bomb. This is misleading. Actually, many experts say that an Israeli attack would accelerate the Iranian nuclear race. ...I have no faith in the current leadership, which must lead us in an event on the scale of war with Iran or a regional war. I don't believe in either the prime minister or the defense minister. I don't believe in a leadership that makes decisions based on messianic feelings. They are two messianics - the one from Akirov or the Assuta project [referring to Barak's former and current homes in a luxury development] and the other from Gaza Street in Caesarea [referring to Olmert's home in an upscale neighborhood]. Believe me, I have observed them from up close... They are not people who I, on a personal level, trust to lead Israel to an event on that scale and carry it off. These are not people who I would want to have holding the wheel in such an event." (video of his comments, in Hebrew, here).

Diskin's comments came on the heels of an interview published April 25th with
Maj. Gen. Benny Gantz, the current chief of staff of the IDF (Israel's top military office)
. In the interview, Gantz said that he didn't believe Iran had made a decision to build a bomb. He also said that if Khamenei decides to go for a bomb
"I believe he would be making an enormous mistake, and I don't think he will want to go the extra mile. I think the Iranian leadership is composed of very rational people..."
In making these comments, Gantz and Diskin joined the list of other top Israeli intelligence and security officials who have broken ranks publicly with the current Israeli government over Iran. Most notably, they join
Dagan
himself, who in June 2011 was the first major Israeli security authority to publicly criticize the Israeli government's growing warmongering on Iran. Among other things, Dagan called an attack "a stupid idea" and made clear that he didn't trust the judgment of Israel's political leaders on the issue. For daring to speak out, the man who for years had held one of the most powerful, sensitive roles in Israel's security establishment - a role which included dealing with Iran - was harshly criticized in Israel, mainly by cheerleaders of military action against Iran. Some Members of Knesset were so incensed that they are supporting legislation, referred to informally as the "
Dagan Law
." If passed by the Knesset, this legislation would effectively muzzle former security officials for a period of one year after they leave office. None of this stopped Dagan from
repeating his views
many times.
Other top security/intelligence officials have also publicly broken ranks with Israel's political leaders on Iran, most notably:
•
Former Israeli Mossad chief Efraim Halevy
, who in November 2011 came out against an Israeli attack on Iran, stating that "An attack on Iran could affect not only Israel, but the entire region for 100 years."
•
Current Mossad chief Tamir Pardo
, who in December 2011 publicly disputed claims that Iran is an existential threat to Israel, reportedly stating: "What is the significance of the term existential threat? Does Iran pose a threat to Israel? Absolutely. But if one said a nuclear bomb in Iranian hands was an existential threat, that would mean that we would have to close up shop and go home. That's not the situation. The term existential threat is used too freely."
•
Former Israeli IDF Chief Dan Halutz,
who in January 2012, in an about-face from his position stated six years earlier, stated that "Iran does not pose an existential threat to Israel. Iran poses a serious threat to Israel, but there is difference between 'serious' and 'existential.'"
Speaking at the Jerusalem Post conference in New York,
former Israeli Prime Minister Ehud Olmert
- who as prime minister shouldered the same responsibility for Israel's national security as Netanyahu does today - defended Diskin and Dagan (and, implicitly, the others). He noted:
"...we have to ask - what has happened that all the leaders of Israel's security services suddenly think in the same way? Until they expressed their opinion in public they were brave and admired fighters - and suddenly they are enemies of Israel, suddenly they don't care about Israel's security?"

This is a serious debate among Israelis. Will it become a similarly serious debate inside the United States? One can hope, but early indications are that it won't. On April 26th,
Rep. Michele Bachmann (R-MN)
went on CNN and told Wolf Blitzer that, in her expert judgment as an experienced security/military/intelligence expert regarding Iran, the chief of staff of the IDF is wrong (Blitzer left her comment go completely unchallenged, including failing to raise the earlier statements by Dagan et al). Such a reaction is typical of American hardliners when faced with Israeli authorities (whose judgment they'd normally defer to) saying anything that diverges from the accepted script, whether on Iran or Israel. An excellent example is this
extraordinarily patronizing report
on the visit of Israeli former military officers to the U.S. pressing for Israeli-Palestinian peace efforts. (For an examination of some of the parallels between how Iran and the Israeli-Palestinian issue are treated, see
here
).
Those who are truly concerned about Israel's security - and who truly worry about whether Iran is an existential threat - should take heart from the recent pronouncements by Israel's top security authorities on Iran. The same people whose job, for years, has been to keep Israel secure, are now telling the world that the situation is not as dire as many believe and that war is not inevitable. And
their views are consistent with those of their professional counterparts in the United States
. That it good news for anyone who truly cares about Israel and Israelis. It is bad news, apparently, for those who, for whatever reason, are ideologically committed to another worldview - one that welcomes or even seeks war.