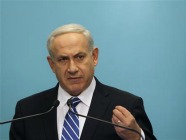 A month before the US general elections, Israel's prime minister, Benjamin Netanyahu, threw Israel into an election campaign frenzy when he announced his intention to dissolve the Knesset and hold early elections next January.
Netanyahu's official reason for the move is his alleged inability to pass a "responsible budget." But according to Israeli pundits, the Prime Minister has other calculations. Some, apparently, have to do with the timing of the US elections. Among other things, Bibi is apparently seeking to face the next US president, whether it's Barack Obama or Mitt Romney, with a renewed fresh mandate from the Israeli public.
"Most important, however, is that Netanyahu is eager to capitalize on his strong showings in the polls. Several recent polls showed Likud winning more than 30 Knesset seats, significantly more than its 27 in 2009.
Bibi is also trying to take advantage of the confusion in the center-left part of the political system. Kadima is collapsing. Labor is struggling to determine whether it has an agenda that extends beyond social justice. Two former leaders of Kadima, former Prime Minister Ehud Olmert and former Foreign Minister Tzipi Livni, are considering a comeback, and Yair Lapid, a TV personality turned politician, has not yet consolidated his base. There are attempts to
unite the center-left parties into a bloc
, but that would be difficult to accomplish with a little more than three months before the elections.
Polls show
that Netanyahu will easily defeat any competing candidate by a broad margin, and is likely to face a post-election embarrassment of riches in the form of several potential coalition partners, all eager to be part of his government.
Recent polls show that the right-wing bloc has gained power. Netanyahu is expected to be able to form a right-wing coalition that will be even more stable than his current one. The question, pundits say, is who Bibi will choose as his coalition partners after the elections.
For more information and analysis on the significance of Netanyahu's gambit, read yesterday's and today's editions of
News Nosh
or visit the web sites of
Haaretz
, the
Jerusalem Post
, the
Times of Israel
, or
Ynet
.