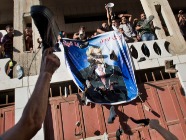 Large-scale economic protests in the West Bank, directed at Mahmoud Abbas' Palestinian Authority, are of major concern. The riots further weaken moderate and pragmatic Palestinian leaders, they threaten to boost the popularity of Hamas and other extremists, and they might spill over to ignite violent hostilities directed at Israel.
Palestinian leaders are trying to calm the crowds. On Tuesday, Palestinian Prime Minister Salam Fayyad announced the reversal of several recently-introduced austerity measures. He promised that his government will reduce taxes and prices of basic commodities, and will pay, in full, the salaries of government employees, but labor union leaders and social activists immediately countered by insisting on Fayyad's resignation. In Hebron, the West Bank's largest town, thousands chanted on Monday, "Go Away, oh Fayyad," and pelted with rocks and old shoes a large photo of the prime minister, who is internationally respected for putting the Palestinian Authority on track toward sound fiscal policies and building institutions for a future state.
Israeli leaders are also concerned. Worried about the implications of a weakened Palestinian Authority and the possible turning of violent Palestinian rage at Israel, Prime Minister Benjamin Netanyahu said on Tuesday that Israel will take measures to help salvage the Palestinian economy. In addition, according to the Israeli media, Israeli leaders asked the United States and European Union to act urgently to help the PA.
For more on the turmoil in the West Bank, read
this AP story
, New York Times articles
here
and
here
, this
Christian Science Monitor piece
, and this
Guardian report
.