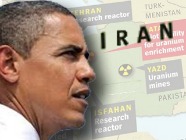 Tell Obama: Don't Be Pressured Into War with Iran
With the 2012 election season in high gear, Iran hawks in both parties and their Israeli counterparts, including Israeli Prime Minister Netanyahu and Defense Minister Barak, are pressing for war.
They are increasing the pressure on President Obama, including with the threat of unilateral Israeli military action. Their apparent goal is to either force Obama to launch a U.S. war against Iran or paint him as not serious about stopping Iran and therefore not truly supportive of Israel. This, despite the Obama Administration's demonstrated and irrefutable commitment to Israel's security.
Tell President Obama: Most Americans (and American Jews) don't consider starting a war with Iran to be "pro-Israel." This is not the time to set a deadline on diplomacy.
All of us are concerned about the threat of Iran acquiring nuclear weapons. An Iran armed with nuclear weapons is an alarming scenario that the U.S. Israel, and the world cannot afford to dismiss. A nuclear-armed Iran would represent a serious threat to Israel, would likely to trigger a nuclear arms race in the region, and would embolden Iran to continue to engage in destabilizing behavior in the region and to threaten Israel and other vital U.S. interests.
Most of us are also concerned - and increasingly so - over the frenzy of talk about military action against Iran. Israeli and American experts agree that military action is unlikely to do more than delay Iran's nuclear program and is almost certain to have far-reaching and dangerous consequences for the U.S., Israel, and the region.
Tell President Obama: Don't let anyone pressure you to abandon your commitment to diplomacy with Iran.
A war with Iran is neither desirable nor inevitable. The best chance for avoiding such a war is robust diplomacy, in tandem with the extraordinarily far-reaching sanctions that are already being imposed against the Iranian regime. It's not just Americans for Peace Now saying this: a large (and ever-increasing) number of former and current U.S. and Israeli military and intelligence officials and national security experts are saying that such an approach, not military action, is the solution.
War advocates, however, dismiss the idea that there are still viable options short of military action and insist that the time for exploring any such options has passed. The reality is that the door remains open for determined diplomacy. As the New York Times wrote only a few days ago: "There is still time for intensified diplomacy".
Tell President Obama: a rush to war is bad for the U.S., bad for Israel, and bad for the world.
Clearly, there is no easy path forward on Iran, but any discourse about war must be a sober one, based on a fact-based assessment of the issues, weighing all options, and taking into account the full range of possible consequences. It must be a discourse in which the voices of reason and wisdom from America's (and Israel's) own military and intelligence communities are not marginalized in favor of the kind of dangerous ideologues and fantasists who made the case for war in Iraq.