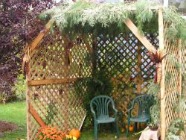 Beginning Sunday night, September 30th, the Jewish holiday of
Sukkot
begins. During the week-long holiday, Jews build a special kind of home to dwell in for the week, called a
sukkah
. The sukkah is a deliberately temporary house, which can have no more than one permanent wall, and whose roof must be open to the sky, covered only partially by natural materials such as branches. Over the course of the week, meals are eaten in the sukkah, and people gather together to celebrate, and even to sleep. According to tradition, we invite
ushpizin
- guests in Aramaic - to join us in the sukkah. These guests are the souls of seven Jewish ancestors who each represent a different value that we want to have with us in our sukkah.
Recently, this tradition has evolved into a lovely custom of inviting additional
ushpizin
, who also represent other ideas or values.
This year, alongside the traditional
ushpizin
of Abraham (who represents Loving-kindness), Isaac (Restraint), Jacob (Grandeur), Moses (Endurance), Aaron (Humility), Joseph (Foundation) and David (Leadership), we suggest that you add the trait of
peacemaking
.
To represent this trait, consider "inviting" Hagit Ofran, the director of Peace Now's Settlement Watch. Aside from the symbolic invitation, you can learn more about her work by
visiting her Jerusalem blog
, or by
reading her articles
.
"Invite" Yossi Alpher, the former Israeli intelligence analyst, who writes a weekly Q&A-style analysis on strategic affairs for APN. You can find his analyses
here
.
"Invite" Orly Halpern, the Jerusalem-based journalist who edits APN's daily Israeli news summary, by
signing up for News Nosh
.
"Invite" Lara Friedman, our director of policy and government relations. You can read her
Legislative Round Ups
, comprehensive reviews of Mideast-related activity on Capitol Hill.
"Invite" Aaron Mann. He recently graduated from the University of Maryland in Middle Eastern studies, and is now running APN's new campus outreach program.
Arrange for an APN speaker
to speak at a university campus.
"Invite" Rabbi Alana Suskin, APN's director of strategic communications.
Sign up for the action alerts
she sends out to our supporters. Be careful, though, if you email her an invitation, she might actually show up!
How about "inviting" a Palestinian peace activist? We recommend the
American Task Force on Palestine
, an organization that - like us - promotes the two-state solution as a primary U.S. national security objective.
And, as always, you are invited to our sukkat shalom - our sukkah of peace.
Join APN
and help make Middle East peace a reality.